Donate
ANY AMOUNT HELPS! We are proud to assure you that your donation goes directly to providing life-saving services for homeless dogs. All ODAAT funds come solely from donations from members of our compassionate, animal-loving community. All donations go directly to the dogs to pay for veterinary care, flights, and food. Please consider making a one-time donation or become a monthly sponsor.
Donations can be made directly into our Bank of Butterfield checking account 1361674940011 in the name of One Dog at a Time or via PayPal to onedogatatimeky@gmail.com. Alternatively, US or CI checks can be made payable to One Dog at a Time and mailed to One Dog at a Time, PO Box 30568, Grand Cayman, KY1-1203, Cayman Islands. Please see below what a donation covers.
Thank you!
Supply List
Dog / puppy kibble
Dog / puppy tinned food
Puppy pee pads
Toys
Poop bags
Heartgard
Nexgard
Wire crates
Leashes
Martingale collars
HOW FAR DOES A DONATION GO?
Whoever said you can't buy happiness never saw the face of a rescue pup. Here's how you can help: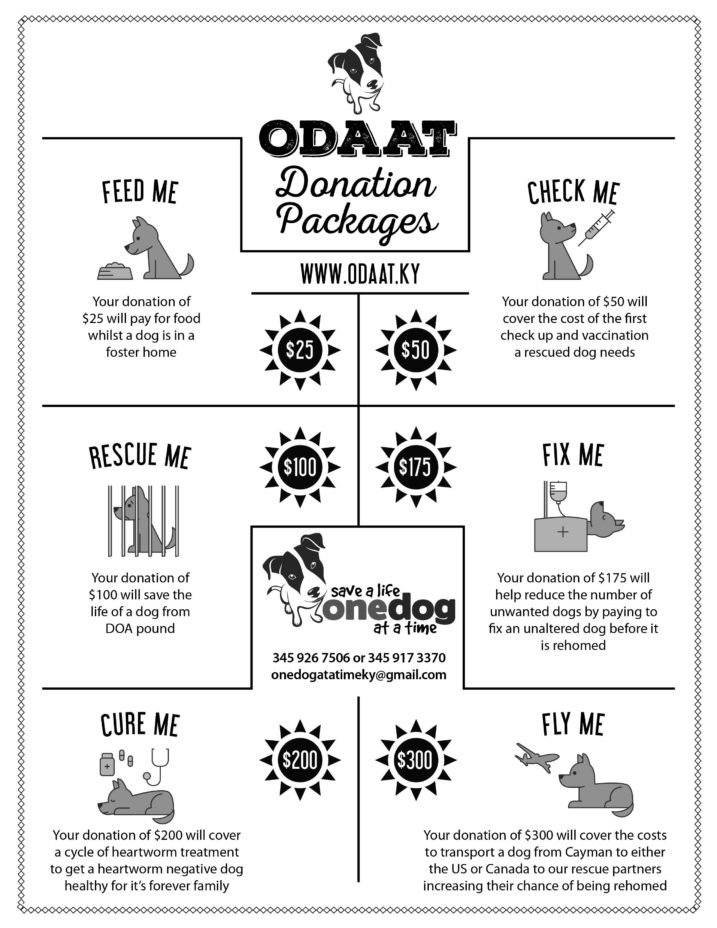 Whoever said you can't buy happiness never saw the face of a rescue pup. Here's how you can help:
FEED ME Your donation of $25 will pay for food for one dog for a month whilst a dog is in a foster home
CHECK ME Your donation of $50 will cover the cost of the first check up and vaccination a rescued dog needs
RESCUE ME Your donation of $100 will save the life of a dog from DOA pound
FIX ME Your donation of $175 will help reduce the number of unwanted dogs by paying to fix an unaltered dog before it is rehomed
CURE ME Your donation of $200 will cover a cycle of heartworm treatment to get a heartworm negative dog healthy for it's forever family
FLY ME Your donation of $300 will cover the costs to transport a dog from Cayman to either the US or Canada to our rescue partners increasing their chance of being rehomed