Donate
ANY AMOUNT HELPS! We are proud to assure you that your donation goes directly to providing life-saving services for homeless dogs. All ODAAT funds comes solely from donations from members of our compassionate, animal-loving community. All donations go directly to the dogs to pay for veterinary care, flights and food. Please consider making a one-time donation or become a monthly sponsor.
Donations can be made directly into our account at Cayman Animal Hospital on Crewe Road either in person or over the phone using a credit card. Please do message us so we know that you have done this so we can update our accounts. Alternatively US or CI checks can be made payable to Cayman Animal Hospital and mailed to One Dog at a Time, PO Box 30568, Grand Cayman, KY1-1203, Cayman Islands. Please see below what a donation covers.
Thank you!
Supply List
HOW FAR DOES A DONATION GO?
Whoever said you can't buy happiness never saw the face of a rescue pup. Here's how you can help: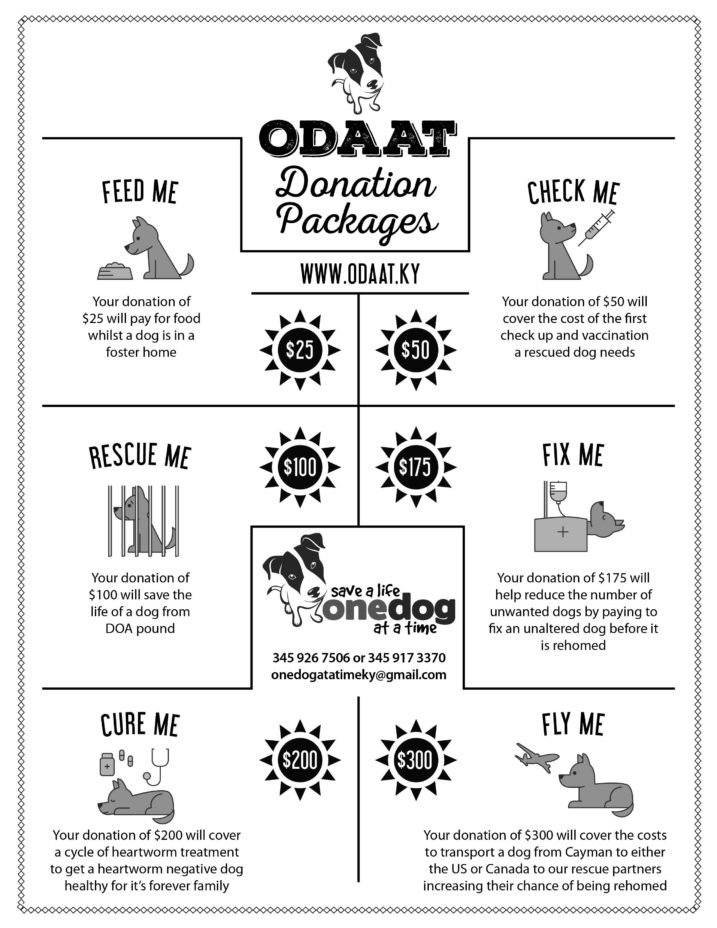 Whoever said you can't buy happiness never saw the face of a rescue pup. Here's how you can help:
FEED ME Your donation of $25 will pay for food for one dog for a month whilst a dog is in a foster home
CHECK ME Your donation of $50 will cover the cost of the first check up and vaccination a rescued dog needs
RESCUE ME Your donation of $100 will save the life of a dog from DOA pound
FIX ME Your donation of $175 will help reduce the number of unwanted dogs by paying to fix an unaltered dog before it is rehomed
CURE ME Your donation of $200 will cover a cycle of heartworm treatment to get a heartworm negative dog healthy for it's forever family
FLY ME Your donation of $300 will cover the costs to transport a dog from Cayman to either the US or Canada to our rescue partners increasing their chance of being rehomed